A question from one of the publishers that we work with got me thinking about eBook pricing, and I realised that the conversation about pricing seems to have become a bit quieter that it was a year or so ago.
I'm sure pricing is constantly at the forefront of most publishers' minds, however I suspect that it's now been long enough since the introduction of eBook mass marketing to allow at least bigger publishers to gather enough data to help make pricing decisions.
The question got me intrigued enough to go and have a look at the pricing trends for title sold by meBooks since we started operations in 2010.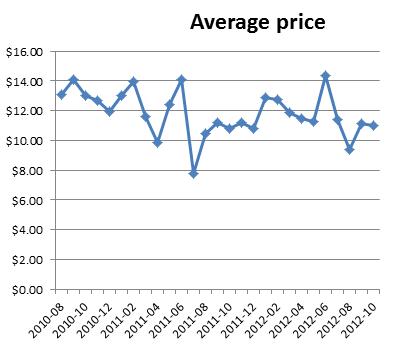 I should qualify this discussion and the chart above with a number of caveats:
We're a relatively small eBook vendor, so the margin of error would be relatively large when compared to a larger player
We do see a healthy number of sales to overseas customers, though the majority of our sales are made to New Zealanders, and therefore the data probably isn't necessarily indicative of current worldwide trends
We allow all our publishers to nominate their own pricing and discounting, and although we're happy to advise, we don't make any pricing decisions ourselves
The prices are exclusive of GST (Goods and Services Tax), whereas the price advertised on the site includes GST. Our GST rate changed about a year back from 12.5% to 15%, and it therefore seems simpler to report ex-GST.
The data in the chart simply shows the average sales price for a given month. We do offer a range of titles for sale via the meBooks site, a number of which are freely available (and aren't incorporated in the maths of these statistics), and a range of priced titles which vary between $2.99 and $90.00.
The data is moderately interesting, in that it seems to show a trend over time to an average price of around $11.00 now (October 2012), as opposed to an average price of around $12.00 - $13.00 when we started (2010).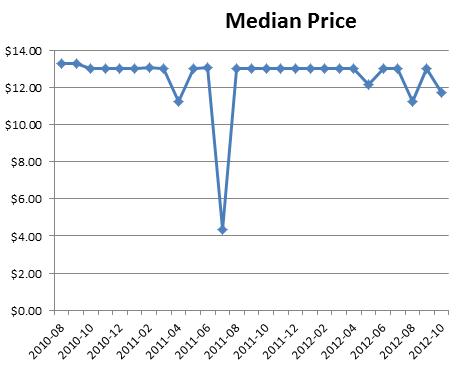 Looking at the median eBook price over the same period, apart from a dip in one month where we sold quite a few low-priced titles, it seems to have held up quite consistently at around $13.00 over most of the period, only starting to dip in recent months.
It should be said that publishers are becoming more savvy about pricing, and we're seeing more lower-priced eBooks, and a few authors and publishers that are revising the pricing of their titles downwards, so I'd accordingly expect to see the median price remain below the $13.00 in future.